Almond Amaretto Bars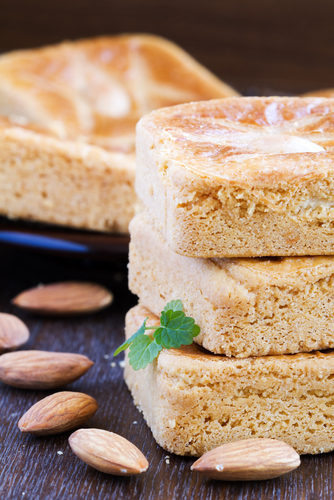 Do you love almonds?  You will absolutely go head over heels with this cookie recipe, which makes use of amaretto, an almond-based liqueur.  You can also add a cup of dark chocolate chips over the filling before adding the almond shavings, if you so desire.  (Yield: Up to 36 squares.)
Ingredients:
2 sticks ice cold butter, cut into cubes
1/2 teaspoon salt
1/2 cup powdered confectioners' sugar
2 1/4 cups all-purpose flour, divided
4 eggs, slightly beaten
2 cups granulated white sugar
1/3 cup amaretto
1/4 teaspoon almond extract
1 cup sliced almonds
Directions:
1.  Preheat oven to 350 degrees Fahrenheit.  Line a 9-by-13-inch baking pan with nonstick aluminum foil.
2.  In the food processor, place butter, salt, powdered sugar, and 2 cups of flour.  Set the processor to "pulse" until a soft dough forms.  Make sure not to over-process.
3.  Transfer the dough onto the bottom of the prepared pan, spreading it evenly.  Bake for 15 to 20 minutes or until golden brown.
4.  Remove the pan from oven and reduce the oven temperature to 325 degrees Fahrenheit.
5.  In a large bowl, place 1/4 cup of flour, eggs, granulate sugar, amaretto, and almond extract.  Beat the ingredients together in medium speed until smooth.
6.  Pour the mixture onto the baked crust and sprinkle sliced almonds on top.
7.  Bake for an additional 30 to 35 minutes or until filling is firm.  Remove from the oven and let it cool to room temperature.  Lift the whole cookie bar out of the foil and cut into small squares before serving.